W. J. Fletcher Jun. A. M. G. V. L.
Fletcher's Standard Mandoline Tutor
Containing a comprehensive system of learning the mandoline from the elementary to the most advanced stages
F. Pitman Hart & Co. Ltd. 20 & 21, Paternoster Row, London
Diese Schule habe ich aus England bei ebay ersteigert. Ich finde diese Schule ausgesprochen gut. Deshalb wundert es mich, dass ich nirgendwo etwas über diesen W. J. Fletcher gefunden habe. Was diese Schule auszeichnet ist zum einen die exakte Bezeichnung der Anschlagsarten. Ich habe zwei Beispiele von Stücken abgebildet, wo man das sehen kann. Fast durchgängig wird das Tremolo genau vorgeschrieben.
Auf 70 Seiten wird man bis hin zum Lagenspiel in der VII. Lage und zum Spielen von Doppelgriffen und Akkorden geführt. Am Ende der Schule findet man eine Reihe von Stücken mit Klavierbegleitung.
In der Schule wird häufig auf "Fletcher's Standard progressive studies and duets for Mandoline" hingewiesen - es wäre schön, wenn ich dieses Heft irgendwann finden könnte!
-----
This is an interesting method published in the UK in 1896. Especially the righ hand technique is very precisely noted. The method contains some duo-style arrangements of popular songs at the end. Unfortunately I have not found more information about Mr. Fletcher except the list of works below.
Die folgende Liste habe ich bei Amazon gefunden, offensichtlich wurden diese Werke von William Jonas Fletcher schon einmal bei Amazon verkauft. Alle Werke sind zwischen 1887 und 1901 datiert, ich vermute deshalb, dass Fletcher auch bald nach 1901 gestorben ist. Vielleicht gelingt es mir, irgendwann einmal weiter Informationen zu finden.
List of works by Fletcher found on the amazon website - all works have been published between 1887 and 1901.
1. Eldora. Valse Espagnol. Mandoline Solo with Pianoforte Accompaniment and extra part for 2nd Mandoline by William Jonas Fletcher (Unknown Binding - 1899)

2. Continental Barn Dance. Mandoline Solo with Pianoforte Accompaniment and extra parts for 2nd Mandoline, Mandola and Guitar by William Jonas Fletcher (Unknown Binding - 1900)

3. Danse Romanese. Mandoline Solo with Pianoforte Accompaniment and extra parts for 2nd Mandoline and Mandola byWilliam Jonas Fletcher (Unknown Binding - 1901)

4. Intermezzo. Solo for Mandoline or Violin with Pianoforte Accompaniment by William Jonas Fletcher (Unknown Binding - 1899)

5. Grace and Beauty. Valse de Concert. Mandoline Solo with Pianoforte accompaniment, and extra part for 2nd Mandoline by William Jonas Fletcher (Unknown Binding - 1887)

6. Grand March in F. Mandoline Solo with Pianoforte Accompaniment and extra parts for 2nd Mandoline, Mandola and Guitar by William Jonas Fletcher (Unknown Binding - 1899)

7. Call to Arms. Quick March. Mandoline Solo with Pianoforte Accompaniment and extra parts for 2nd Mandoline, Mandola and Guitar by William Jonas Fletcher (Unknown Binding - 1901)

8. Jollity. Barn Dance. Mandoline Solo, with Pianoforte accompaniment and extra part for 2nd Mandoline by William Jonas Fletcher (Unknown Binding - 1895)

9. Our Nation. National Overture. Mandoline Solo with Pianoforte accompaniment, Arranged by W. J. Fletcher by William Jonas Fletcher (Unknown Binding - 1898)

10. Our Navy. Nautical Fantasia. Mandoline Solo with Pianoforte Accompaniment ... Arranged by W. J. Fletcher, Junr by William Jonas Fletcher (Unknown Binding - 1899)

11. Scottish Festival. Mandoline Solo with Pianoforte Accompaniment ... Arranged ... by W. J. Fletcher, Junr by William Jonas Fletcher (Unknown Binding - 1901)

12. Serenade and Gipsy Dance. Mandoline Solo with Pianoforte accompaniment and extra part for 2nd Mandoline by William Jonas Fletcher (Unknown Binding - 1898)

13. Fletcher's 60 Standard Intermediate & Advanced Exercises & Duets for the Mandoline ... Composed and arranged by W. J. Fletcher,etc by William Jonas Fletcher (Unknown Binding - 1898)

14. Fletcher's Standard Mandoline Tutor ... Composed, compiled & arranged by W. J. Fletcher,etc by William Jonas Fletcher (Unknown Binding - 1896)
Bitte teilen sie diese Seite:

Free Download / Kostenloser Download:
Fletcher's Standard Mandoline Tutor (1896) - Mandolinenschule
Fletcher's Standard Mandoline Tutor - Cover
Fletcher's Standard Mandoline Tutor - Vorwort - Preface
Fletcher's Standard Mandoline Tutor - The Right Hand - How to Hold the Plectrum
Fletcher's Standard Mandoline Tutor - John Anderson My Joe
Fletcher's Standard Mandoline Tutor - The Old Folks At Home
Weitere Noten für Mandoline und Gitarre und Mandolinenschulen finden sie bei musicaneo:
More sheet music for mandolin and guitar and mandolin methods available at musicaneo: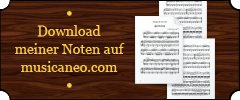 Michael Reichenbach Noten auf MusicaNeo
Wenn sie diese Seite ohne Navigationsleiste angezeigt bekommen, dann klicken sie hier
um die MandoIsland Homepage zu öffen: