Winner's Eureka Method for the Mandolin
Winner's Eureka Method - Schule für die Mandoline

Winner's Eureka method for the mandolin : latest and best of all instructors

Diese Schule ist 1891 erschienen.

Septimus Winner lebte von 1827 - 1902

Die Schule enthält viele Melodien und einfache Spielstücke.

Diese Schule wurde von der University of Rochester gescannt und kann von der folgenden Seite heruntergeladen werden:

This method has been scanned by the University of Rochester and is available as free download from the following site:

.


Bitte teilen sie diese Seite:

.
.

Winner's Eureka Method
Titelseite / Cover
Inhalt / Contents 1
Inhalt / Contents 2
Haltung / Position
Griffbrett / Plan of the Fingerboard


Beispiel / Example: American Line March
Beispiel / Example: Mandolin Serenade
Weitere Noten für Mandoline und Gitarre und Mandolinenschulen finden sie bei musicaneo:
More sheet music for mandolin and guitar and mandolin methods available at musicaneo: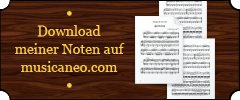 Michael Reichenbach Noten auf MusicaNeo
Wenn sie diese Seite ohne Navigationsleiste angezeigt bekommen, dann klicken sie hier
um die MandoIsland Homepage zu öffen: