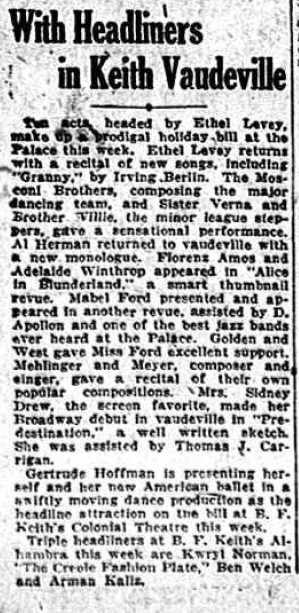 THE EVENING TELEGRAM - NEW YORK, TUESDAY, DECEMBER 27, 1921.

With Headliners in Keith Vaudeville
Ten acts, headed by Ethel Levey, make up the prodigal holiday bill at the Palace this week. Ethel Levey returns with a recital of new songs. Including "Granny," by Irving Berlin. The Mosconi Brothers, composing the major dancing team, and Sister Verna and BrotherWillie, the minor league steppers, gave a sensational performance.
Al Herman returned to vaudeville with a new monologue. Florens Amos and Adelaide Winthrop appeared in "Alice In Blunderland." a smart thumbnail revue. Mabel Ford presented and appeared in another revue, assisted by D. Apollon and one of the best jazz bands ever heard at the Palace. Golden and West gave Miss Ford excellent support. Mehlinger and Meyer, composer and, singer, gave a recital of their own popular compositions. Mrs. Sidney Drew, the screen favorite, made her Broadway debut in vaudeville in "Predestination." a well written sketch. She was assisted by Thomas J. Carrigan.
Gertrude Hoffman is presenting herself and her new American ballet in a swiftly moving dance production as the headline attraction on the bill at B. F. Keith's Colonial Theatre this week. Triple headliners at B. F. Keith's Alhambra this week are Kwryl Norman, "The Creole Fashion Plate," Ben Welch and Arman Kaliz.