Louis Tocaben - Mandolinenschule
Louis Tocaben

Louis Tocaben hat Ende des 19. Jahrhunderts und Anfang des 20. Jahrhunderts viele Noten für Mandoline, Gitarre und Klavier in den USA veröffentlicht. Ich habe unten eine Liste mit Werken zusammengestellt die ich finden konnte. Einige dieser Werke sind als Scans zum Download verfügbar.

Die Mandolinenschule von Tocaben erschien schon 1885. Diese Schule wurde von John Goodin schon im Jahr 2006 eingescannt und ist auf seiner Website in einzelnen Seiten verfügbar. Ich habe aus den Seiten ein Gesamt-Pdf erstellt und dieses bei IMSLP hochgeladen.




Louis Tocaben

Linksammlung zu Louis Tocaben: http://pinboard.in/u:mandoisland/t:Louis_Tocaben/

Link collection about Louis Tocaben:

http://pinboard.in/u:mandoisland/t:Louis_Tocaben/

Information about Louis Tocaben in the Mandolin Cafe:

http://www.mandolincafe.com/glossary/glossary_39.shtml

Louis moved from Paris to NYC in 1870, but the Tocaben family actually came from the border area of Spain and France (Catalonia in Spain, Provence in France). The name itself means to 'touch' or play well. (Tocar + Bien), and shows up as both a Spanish name and as a French name.
.
.

Bitte teilen sie diese Seite:

. .
Louis Tocaben's Complete Method for the Mandoline
Titelseite - Cover
Haltung der Mandoline - Position of the Mandolin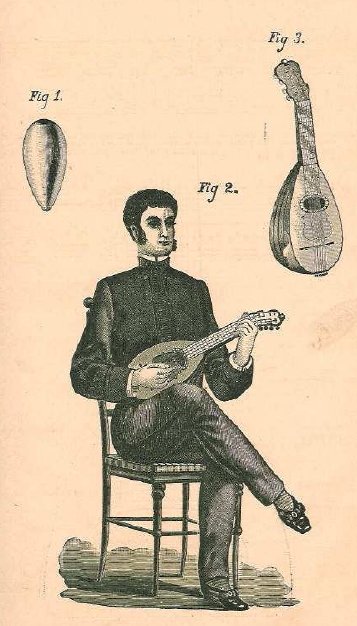 Liste von Werken von Louis Tocaben / List of works by Louis Tocaben
Complete Method For The Mandoline
Mandolin and Guitar Collection 17a
The Remick (Whitney-Warner) mandolin and guitar collection no. 17a,
The Most Popular Songs for the Guitar
Blue book of guitar songs and solos of the popular airs of the day, arranged to suit all players
Most Popular Mandolin Dance Folio
The Mark Stern Mandolin and Guitar Folio No. 3
The Most Popular Mandolin Operatic Pieces
The Most Popular Selections from the Grand Operas for Violin and Piano
The Broadway Mandolin and Guitar Folio No. 1 - arrangements by Tocaben, Louis and Kitchener, W.J.
Empire Collection : 15 Choice Melodic Compositions by Various Authors. Arranged and compiled by Louis Tocaben. New York: Carl Fischer, [1915?]
American Marines March
Lily of the Valley
Little Brown Hut in the Lane
Southern lullaby
Folio collection: Waldmere March F. H. Losey arr. Louis Tocaben
Sunlight and shadow / Louis Tocaben [sheet music]


Downloads - Louis Tocaben


Sunlight and Shadow
In The Glen
Wenn sie diese Seite ohne Navigationsleiste angezeigt bekommen, dann klicken sie hier
um die MandoIsland Homepage zu öffen: